Adventures in Prague and Paris
I've been staying in Prague in the Czech Republic since late January… sort of. Two weeks ago we traveled to France to spend 10 days in Paris during the kids' spring break. So in a way, I've had a trip within a trip, which is kind of neat.
This is the first time I've been to Prague since I was kicked out of the Czech Republic a couple of decades ago with Yvonne before we were married. I'd recount the story here, but it's one of my best stories, so if you see me in person be sure to make a point to ask me about it and I'd be glad to tell you. It was snowing in Prague when I got there, which was a nice change after having spent the winter in snow-free Florida.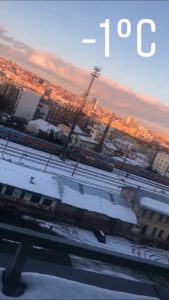 The city of Prague has impressed me more than I thought it would. I've heard that it's a fascinating and vibrant city, but so far it's exceeded my expectations. I find the tram system (being from Toronto I keep wanting to say streetcar system) is efficient and well-run, and having a monthly public transportation pass makes getting around the city easy and low-stress.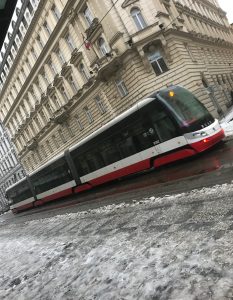 One interesting site we visited in Prague was the Colloredo-Mansfeldský Palace near the Charles Bridge. It's an old, run-down palace built in the early 1700s that has (sort of) been converted into a modern art museum. It's safe to say that it's one of the creepiest places I've ever visited. There was one particularly memorable room with interesting ornate walls and a painted ceiling that had a bunch of huge empty picture frames and a speaker on a stand set up in the middle. The speaker was playing a recording of a man moaning and making unnerving guttural breathing noises. I'm generally a fan of art, even so-called modern art, but what the heck? So bizarre.
I also visited the Prague Astronomical Clock in the Old Town Square, dating back to 1410, one of the must-see sites in Prague. When I was a kid I was a big fan of clocks and watches, even taking some apart to see how they worked (though I can't say I was as successful at putting them back together), so it was really fun to visit this famous clock.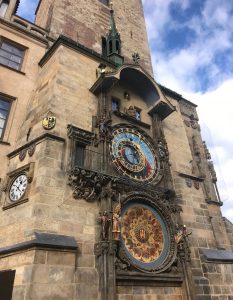 After spending some time in Prague, we traveled to Paris. It was nice to be back in France after a few years away. It was a short flight from Prague to the Charles de Gaulle airport, and then an Uber ride (which turned out to be cheaper than taking public transportation) to the Santa Fe Hotel at Disneyland Paris in Marne-la-Vallée. Yvonne booked the hotel back in September for a very low rate (50 euros a night!) and since it was located close to both the Disneyland parks and the Marne-la-Vallée train station, it turned out to be a good base of operations for our stay.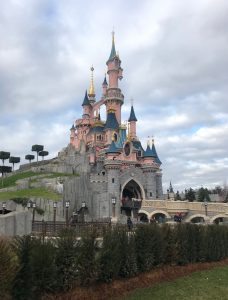 Disneyland Paris was fun – having lived in Orlando for the past five years, we've become accustomed to the Central Florida Disney lifestyle, so experiencing Paris's take on Disney was interesting. For example, the Disneyland Paris version of Space Mountain has been rebranded to Hyperspace Mountain, featuring a Star Wars theme. In my opinion, it's superior to the Space Mountain at Disney World in Orlando, and is probably my favorite of all the Disney roller coasters (that I've tried so far at least).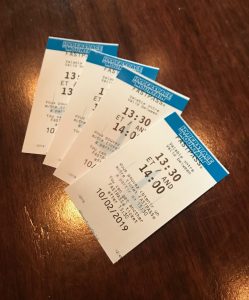 Speaking of rides that are better at Disneyland Paris, the Disneyland Paris version of the Rock 'n' Roller Coaster featuring Aerosmith is also, in my opinion, better than the one at Hollywood Studios at Disney World in Orlando. While the Orlando version has a stretched limo theme, with riders taking a trip to an Aerosmith concert, the Paris version continues the story as the riders arrive at the concert and go backstage to see Aerosmith. It's not really the theme that makes the ride better – I just like the ride better. Though that could also be because I haven't ridden the Paris version as many times as I have the Orlando version. I also prefer the Disneyland Paris version of the Pirates of the Carribean ride, but only because they haven't overdone the Captain Jack Sparrow aspect like they did in Orlando. Meanwhile, we rode the Disneyland Paris version of the Haunted Mansion (which is called Phantom Manor) several years ago, but this year it is closed until April – too bad! That said, I still managed to get a picture with Phantom Manor Mickey outside the attraction.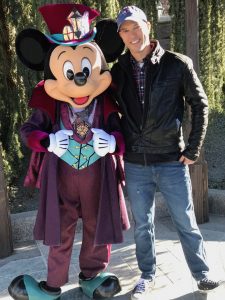 The Ratatouille ride is also fun, and new since we were last at Disneyland Paris. It reminded me a little bit of the original Harry Potter ride at Universal Studios Florida. The pathing of the is interesting – the different cars do not follow the same path, so it gives the effect of a bunch of rats scurrying across a restaurant floor. Pretty neat.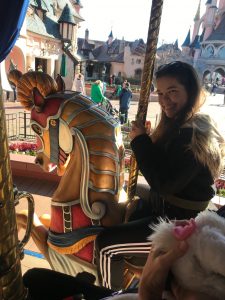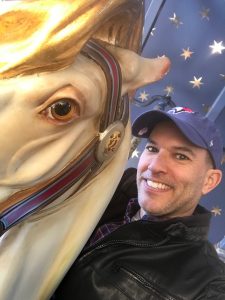 We traveled by train from the train station near our hotel to Paris a few times during our stay. Callum and I went to the Paris Manga and Sci-Fi Show at Porte de Versailles this past Saturday, which was really fun. I still want to find myself a really neat and obscure cosplay costume that I can somehow create… it would be even better if I could find some themed costumes so that Callum and Amelia could join in. For the longest time I've wanted to dress as Yoshimitsu from the original Soul Calibur game (for Sega Dreamcast), which would be amazing, but extremely difficult to pull off.
We also visited the Eiffel Tower as a family, climbing the stairs to the second floor before taking the elevator to the top level. Apparently, there are 674 steps leading to the second floor of the Eiffel Tower (there are 1665 steps in all, but the steps leading to the very top of the tower are closed to the public). Climbing up and down all those steps made for some darned good exercise!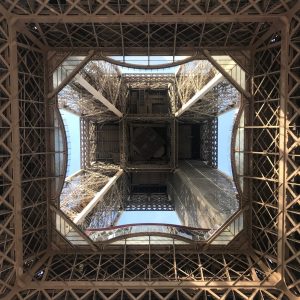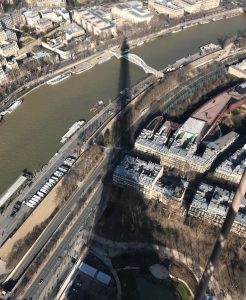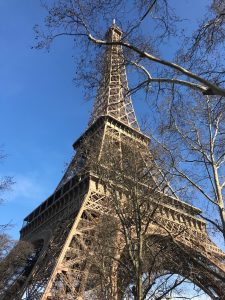 After visiting the Eiffel Tower we took the Métro to Montmartre, which is one of my favorite sites in Paris. There are over 300 stairs leading to Montmartre, which means that after our Eiffel Tower stair-climbing adventure we got even more steps in!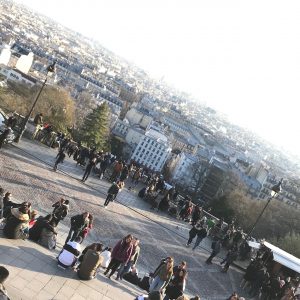 We also did a bit of shopping while staying in Paris. The Val d'Europe shopping center is located relatively close to Disneyland Paris, so we went there to get some clothes and other items we might not find in Prague. I found the most European of jeans at Bonobo, a French jeans company, so that was pretty cool. Callum and Amelia found new jackets. And we spent some time at Auchan and bought a collection of really good French treats! If I'd had a cooler I would have filled it to the brim with French cheese, but alas, it was not meant to be.