When I was in high school, my family lived for a while in Saudi Arabia. My father was working for Bell Canada, a Canadian telecommunications company charged with setting up Riyadh's telecommunications infrastructure. I was too old to go to SAIS-R, (the American International School in Riyadh, now called AIS-R), where my sister spent a few years, so instead I continued at my high school in Toronto. Which was cool, because I got to use the car!
I did, however, spend my summers and Christmases in Riyadh. And it was in Riyadh where I worked my first job – as a lifeguard at the olympic-sized swimming pool on the Bell Canada compound.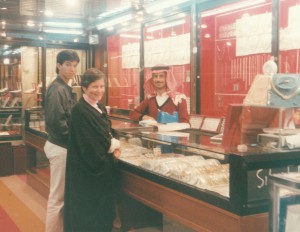 I was in Saudi Arabia a few years before "the war and stuff", and I always felt comfortable there. We of course had to abide by Saudi religious laws, and I'm pretty sure any fooling around would not have been tolerated by the authorities. But the people we encountered in the market were always friendly, and I never felt in any danger while in town. At one point my father and I took a trip to Jeddah to do some snorkeling and fishing on the Red Sea. We stayed with a group of Saudi men on the coast (we were the only non-Saudis), and were invited to participate in one of their feasts, where lamb meat was served on a huge blanket on the sand and eaten by hand. Knowing we were not used to their customs, our Saudi hosts were gracious and helpful, and made sure we felt welcomed.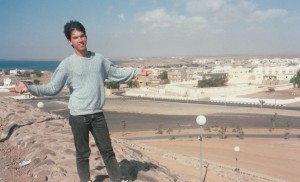 Nowadays I wouldn't take my family to Saudi Arabia. A lot has changed in that region since we lived in Riyadh, and the Department of State currently warns its citizens to "carefully consider the risks of traveling to Saudi Arabia". But I'm glad I have the memories I do of my time in Riyadh. Living overseas was what got me interested in different languages and cultures, which eventually led to my living in France and Ireland. And it got me wanting to teach my own children about different people who live in different parts of the world, so that as they grow up, acceptance and understanding of people of all varieties will come naturally to them.