This evening we visited Madame Tussauds on International Drive here in Orlando. We have one of those annual passes where you can visit a bunch of different attractions in the area, including Madame Tussaud's and LEGOLAND, so why not? It was a pretty fun visit.
I've seen wax exhibits before, but I don't believe I have been to a Madame Tussaud's in particular before. There were several things that I found interesting about it:
The wax mannequins were not as realistic as I thought they would be. I mean, they were pretty darn realistic, but you could tell they weren't real.
There were lots of interactive play areas inside the museum. You could throw basketballs, put on different costumes, do some boxing, answer interactive quizzes, and so on. You could also touch and otherwise interact with the wax figures. I hadn't been expecting this; I had assumed it would be more museum-like, with the exhibits cordoned off. It was a nice surprise.
It was neat to see how tall, short, big, or small people were based on their wax replicas. When you see someone on TV you don't always get an accurate representation of their size. Not that it's important – 'cause it's not – but I found it interesting anyway.
I kept thinking someone was going to jump out at me.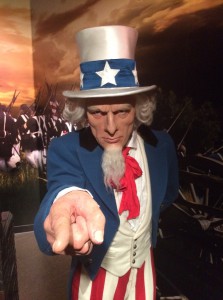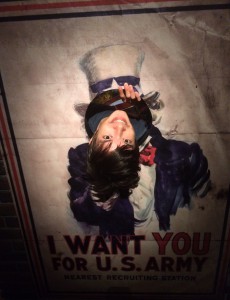 We also visited the Orlando Eye (part of that same chain of attractions for which we have an annual pass). That was pretty fun as well. It was colored green for St. Patrick's Day, which was a nice touch.