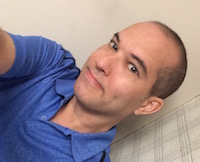 On the off chance I don't make it through tomorrow (because hey – you never know), I wanted to mention that I've been pretty lucky, and for that, I am thankful. I'm thankful for the life I've lived so far. I was fortunate to have been born to fantastic parents living in a free and beautiful country who raised me with love and care, and who provided for me so that I could become healthy and educated. I have an amazing wife and kids whom I love very much, and who fill me with joy every single day. I have a diverse group of amazing friends who lift me up. And I'm happy to have been to the places I've been, to have seen the things I've seen, and to have met many people from all different races, cultures, traditions, and affinities. These things have made me the person I am today, and I am happy to be that person.
It is my hope that, after I am gone, people will continue to work to understand one another – to endeavor to place themselves in each other's shoes or sandals. I believe that most people want to do what they feel is right, and do not naturally come from an evil space. Knowing this, people can choose to work in harmony and trust toward a better life for everyone. It might not be easy, but it is the right thing to do.
And if you and I both make it through tomorrow… onward we go!