Back in 2005 and 2006 I completed a Masters program at ESC Clermont in Auvergne, France. This week, I'm back in town. It's quite something to be back here after almost eight years.
While I've been in the region, I've been doing a lot of walking around and exploring, both in Clermont-Ferrand and its neighboring towns, and in the surrounding countryside. On Sunday I went on a hike with my friends Anthony, Maya, and their three year-old daughter. We started at the Clermont-Ferrand Golf Club and hiked up Le Pariou. Le Pariou is a "puy", which is a term used in the region of Auvergne to describe a volcanic hill (an inactive volcano). Le Pariou sits next to the Puy de Dôme, the largest of the inactive volcanoes in the region. As I climbed the Puy de Dôme back in 2005, it made me feel somewhat accomplished to hike up yet another one. Le Pariou is also less toured than the Puy de Dôme, so it had more of a natural feel to it than its bigger brother.
It was rather cold and somewhat windy on Sunday, so we were relatively bundled up for the hike. Anthony carried his daughter on his back in one of those child carrier backpacks almost the whole way – he's a pretty fit guy. Once we reached the top of Le Pariou, we were able to look down into the crater and see some of the volcanic rocks which people often use to write names or messages that can be seen from the lip of the volcano above. It was extremely windy at the top, but it afforded some great views of Clermont-Ferrand and the surrounding area.
Here are a few pictures from our hike.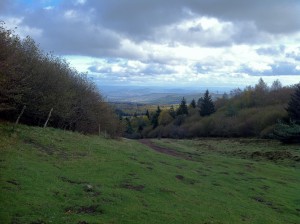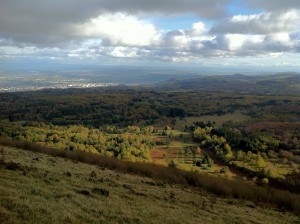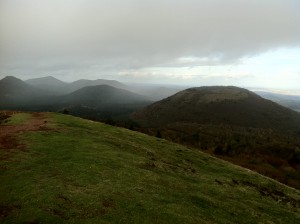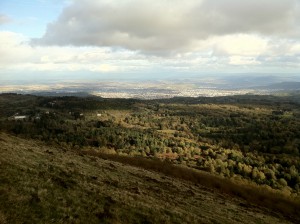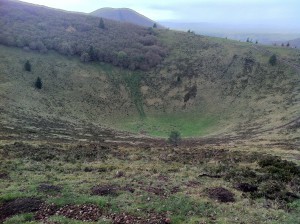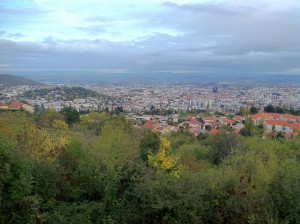 And here are a few pictures from a walk I took last night in Clermont-Ferrand with a couple of friends. We started at Place de la Victoire, where the cathedral sits, and walked around the old town for a bit. We also visited Place Jaude. It was somewhat rainy and cold, but the rain seemed to make for some cool, moody pictures.