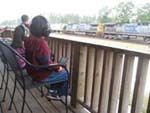 the two eldest kids and I are in Folkston, Georgia, Gateway to the Okefenokee Swamp. We're here staying at the Roadmaster's Lodge, a small one-room hotel that was built in 1889 to serve as the office of the Roadmaster in the Folkston area. Yes, we drove four and a half hours to come watch some trains. Here are the kids watching a passing freight – you will notice that they each have portable DVD players for when there aren't any trains to watch – yes, I came prepared!
the town of Folkston has a really great Railfan Platform with a radio scanner (to hear the engineers talking to one another), picnic tables, power outlets, and yes, Wi-Fi Internet. When we got there there were already three or four railfans down by the tracks with their cameras and tripods, taking pictures. Most of the trains have been CSX mixed freights or intermodals, with a few Amtrak passenger consists thrown in.
one cool application I downloaded this morning is the ATCS Monitor, a railroad data, CTC monitor and display. It shows real-time data of where trains are located north and south along the line, so we can figure out when trains will be passing by Folkston, and from which direction they'll be coming. Here's an example of what it looks like.
we'll be heading back to Charleston tomorrow morning, after another noisy night (yes, the trains keep coming through all through the night, which would perhaps be annoying normally, but hey – that's why we're here). The kids have had a great time so far! And, well… so have I!