adventures in France and England
today I've started using the WordPress Image Uploader to upload and manipulate images. Up until now I've resisted doing so due to some innate need to control everything by hand (re: resizing the images into thumbnails by hand, using SFTP to get them uploaded onto my server and then linking to them using HTML). Well, no longer! So far the Image Uploader seems to make things much easier, and there's also a handy WordPress Image Gallery that you can use to display sets of images.
enough about WordPress features… here are some pictures from our recent travels around France and England.
the other week we went to the Zoo de Champrepus, a zoo near our house here in La Manche (Basse-Normandie). For a small zoo it was actually quite good; there was hardly anybody there, so we had a nice private tour of the grounds and managed to get up close and personal with some of the residents.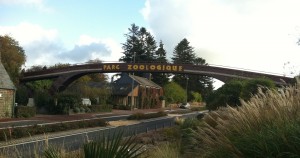 the highlight of the trip to the zoo was a visit into the lemur grounds within the Madagascar exhibit. You could walk right up to the lemurs and hang out with them, and they wouldn't run away or otherwise react to your presence. The lemurs were funny; they would wander around the grounds when it was cloudy, but as soon as the sun would come up they'd prop themselves up to bask their bellies in it.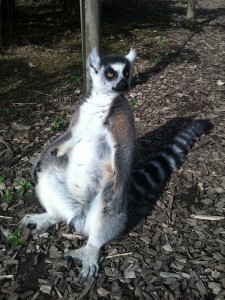 meanwhile, here is a fellow making fresh crèpes for us at a weekend carnival that took place in the town of Saint-Hilaire-du-Harcouët near where we live. The most interesting thing about the carnival (to me at least) was how carnies from all over France came to set up their booths, rides and attractions inside the town. The side streets of Saint-Hilaire were overflowing with trailers and camper vans full of the workers running the festivities and their families. I know that my stalwart crew tends to move around quite a bit, but in comparison to these people we're downright sedentary.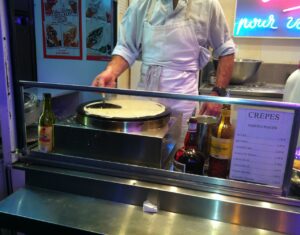 a few weeks ago we took a trip to England to stay with some friends of ours (the family of a high school friend from Toronto) who are living in the town of Reading. While we were there the families toured London and went to LEGOLAND in Windsor. It was a great trip; I'm sure it was refreshing for the kids to get to hear people other than their parents speaking in English to them!
one fun aspect of the trip was taking our car on the ferry from the port at Ouistreham (near the city of Caen) to Portsmouth in England. Even more fun was the trip back, where we got a cabin for our family of four on the ferry. The kids loved it… plus I got to take a nap.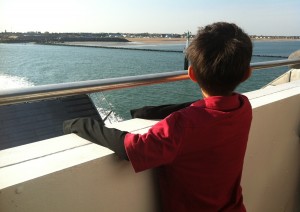 while in England we traveled to the city of Bath to see the ancient Roman baths. It was fascinating to me to see structures so ancient, and to imagine what life must have been like back in the old (like, REALLY old) days. Callum, for one, really digs that sort of stuff.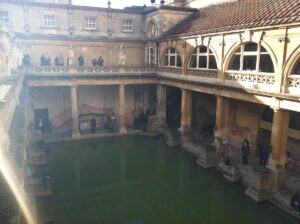 on our way back from Reading to Portsmouth to catch the ferry back to France we paid a visit to Stonehenge (yes, I did just link to that). After visiting the Roman baths (old) it was interesting to visit Stonehenge (even older). Architecture has really come a long way in the past few thousand years.
while visiting the 'henge I conveniently forgot my phone in my car and was unable to take a picture of it. So when we got back to the car I snagged my phone, ran back through the tunnel under the road that leads to the site, and snapped a quick photo of the path leading up to it. It's not much, but hey, it's better than nothing. Maybe.

and as a parting shot here's a picture of the best pub in Paris, where my friend and co-worker Ian and I visited during a business trip to Paris… the Great Canadian Pub!