Mickey's Very Merry Christmas Party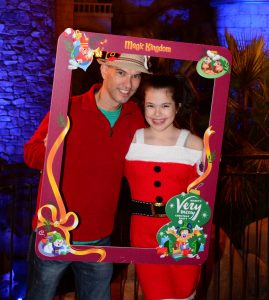 So it's not much of a secret that we go to Disney World a lot. Considering we live right next door and have annual passes (including to the waterparks), it only makes sense to hang out there. When you live next to Disney World, the best times to go are in the evenings. You can schedule a few FastPasses in advance for some attractions you haven't done in a while, head out after school or on a weekend evening after the afternoon crowds have died down and the Florida heat has subsided, and spend three or four hours at a park. Yvonne and I may also sometimes go to Blizzard Beach or Typhoon Lagoon during the daytime when the kids are in school to float around in the lazy river for a while and plan for our next few weeks.
A few days before Thanksgiving, Yvonne, Amelia and I went to the Magic Kingdom for Mickey's Very Merry Christmas Party. I hadn't done it before so I wasn't sure quite what to expect. It is rather expensive, but since we're living in the area, we may as well take advantage of it!
Yvonne and Amelia had attended Mickey's Not-So-Scary Halloween Party a few weeks before, in October, which is of a similar vein. And at the Halloween party, many guests had dressed up in Halloween costumes. So we figured that for the Christmas party, many people would do the same thing. Not so. We were some of the few people who dressed up for the event! Fortunately, it wasn't embarrassing or anything – we did stand out, but it was a good thing! They were Santa Claus dresses, and I had two crocheted Mickey Mouse ornaments on my hat that Amelia and Yvonne crafted.
It turned out to be pretty fun. There were various stands with Christmas treats including cookies (gingerbread, sugar, snickerdoodle, and mint chip), hot chocolate, eggnog, chocolate milk, Dove chocolates, hot pretzels, and shaved ice. There were also many different Disney characters in attendance to take pictures with, including some rare ones – Scrooge McDuck and Peter Pan, for example. And the characters were of course dressed up in holiday attire.
Considering its cost, it's not something I would do every year, but we had an entertaining evening. I find the best way to have fun at a Disney park (or anywhere, for that matter) is to take advantage of what's there and have fun. Don't worry too much about expectations or if things aren't going entirely smoothly. Just embrace it!