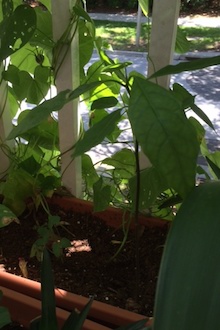 Avocados are a terrific addition to shakes and smoothies. They're very good for you, and they turn a shake frothy like a milkshake even if there isn't any dairy in there (I make my shakes without). They're also great in sandwiches, wraps, and of course, tacos.
Callum decided to plant one of the big spherical seeds from one of the avocados I used in one of my shakes, and over time it's grown into a little avocado tree. It took a few months for it to sprout. First, it took its sweet time forming roots; then, after some consideration, a little stem popped out of the soil. Since then it's grown to nearly a foot tall.
The only problem I have with avocados is that you have to experience them on their time. Open one too early and it's firm and bitter-tasting. Too late and it starts to feel squishy like a water balloon. Get the timing right, though, and it's green goodness.
Happy blending.