sometimes, I think, God sends you a sign.
as I have posted earlier we bought a cottage in Ontario a while back. At any rate, I have been pretty much completely happy with the purchase… but I've always added the caveat that the one thing that I would probably change is the exposure. The cottage has an eastern view of the lake, and I would have prefered western exposure, for the sunsets. I don't usually wake up early enough for the sunrises!
so this evening I decided to watch the sun setting for the last time at the cottage, as I am leaving for school tomorrow morning. I knew that I wouldn't get the actual sunset, facing east, but I wanted to watch the lake one last time before going overseas. While I sat there on the dock I realized that it is nice to be heading off to another country knowing that I have a place that feels like home to come back to when school is over. It was a nice feeling.
at any rate, while I was sitting there, the eastern sky started to turn orange, and then pink, and then a very vibrant purple. Just for me!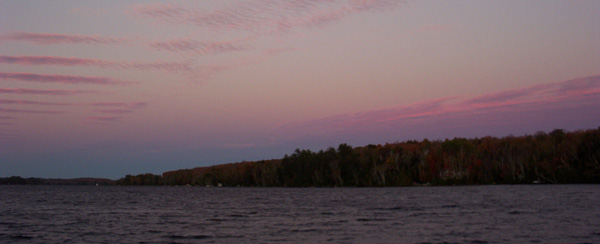 meanwhile, this was what was happening in the west (not that I could see it from the dock):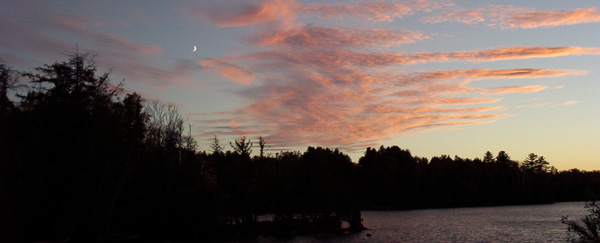 I suppose this is a sign if there ever was one, to be happy with what you have. And not to put any "… but I'd be happier if!" sort of statements after it. It's something I'm going to try to remember.