In a previous post, I mentioned that we've been getting into running as a family. It's a great way to get outside and do some exercise.
One of the ways we've been getting into running is by participating in Disney runs. The runDisney program is a series of races throughout the year: 5Ks, 10Ks, half marathons, full marathons, and even a 10 miler that Yvonne and I are going to be running at Hollywood Studios later this year, in early October.
While the Disney races can be costly (January's Dopey Challenge, which involves running a series of back-to-back races – including the 5K, 10K, half marathon and full marathon – costs over $500), working toward those medals (and the tech shirts you also receive at registration) can be a great motivator. It will get you – and keep you – training for upcoming races months in advance. And considering the rising costs of health care, in my opinion it is money well spent.
The runDisney races
In November of 2013, we participated in some of the Disney races during the Wine and Dine Half Marathon weekend. While none of us ran the actual half, Yvonne and Callum did do the Jingle Jungle 5K (something that they trained up for while living in Spain), and Amelia completed her first ever Mickey Mile at ESPN Wide World of Sports.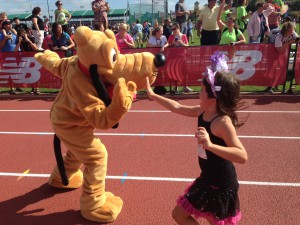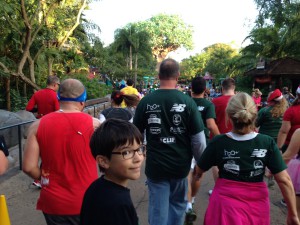 In January of this year, Disney hosted its annual Marathon Weekend. Amelia completed the Mickey Mile, again at ESPN Wide World of Sports. It was crazy crowded.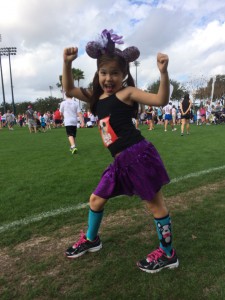 The Disney Princess 10K and Half Marathon took place in February. Yvonne ran both of these, completing a challenge called the Glass Slipper Challenge. I was thinking of completing this challenge next February, though Yvonne mentions that I will have to dress up as a princess if I do.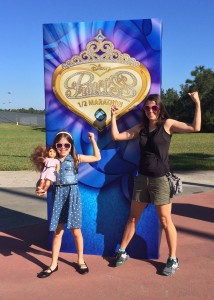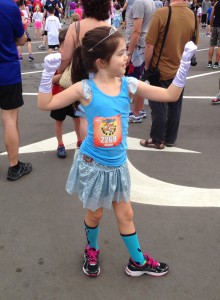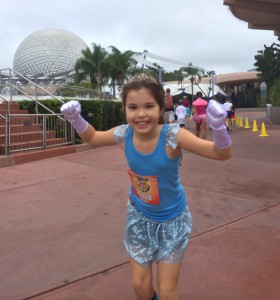 Part of completing the Disney races involves registering for each race at the ESPN Wide World of Sports complex, on Disney property. During the registration period the complex hosts an exposition, featuring a variety of different booths set up downstairs where different merchants sell mostly running-related stuff. Upstairs, a series of speakers come to speak about running, health, and nutrition.
The runDisney Health and Fitness Expo
One of the most popular of the official Disney speakers is Jeff Galloway, a former Olympian who now promotes interval-based long-distance running (30 seconds running, 30 seconds walking, and so on, until you finish the race). He qualified for this year's Boston Marathon using a program of 15 second intervals. We got to meet him at the most recent exposition, and it was great to talk to him about running. He's going to be hosting some of his own races in Atlanta later this year (though we're not going to be able to make them).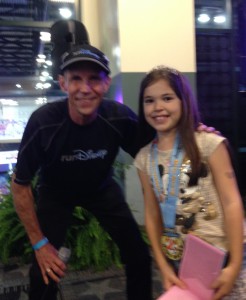 Our next run
Speaking of runDisney races, Callum and I are going to be running the Expedition Everest Challenge this coming weekend. It's a race around Disney's Animal Kingdom, involving a variety of different challenges. We're looking forward to it – wish us luck!