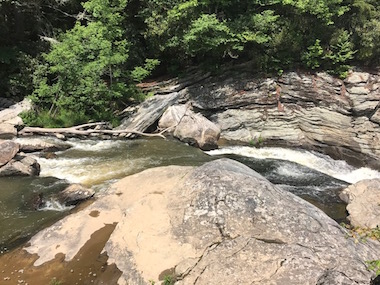 Callum and I are in Sugar Mountain, North Carolina. We're staying at a condo my parents have rented for the summer up in the mountains. It is a beautiful area! And the weather is beautiful – quite a change from the heat and humidity of Central Florida this time of year.
Today we went to Linville Falls, where Callum and I hiked up to the top of the mountain to check out the overlooks. Afterward we went to the Linn Cove Viaduct, an impressive feat of engineering built into the mountainside of Grandfather Mountain. There was a short walk up to the viaduct along the Tanawha Trail that we did that included some fun boulders to climb, and an overlook nearby that we also stopped at to take a few pictures.
Tomorrow we are doing to head to either Blowing Rock or Banner Elk, two places I've not yet visited. I'm looking forward to checking them out.