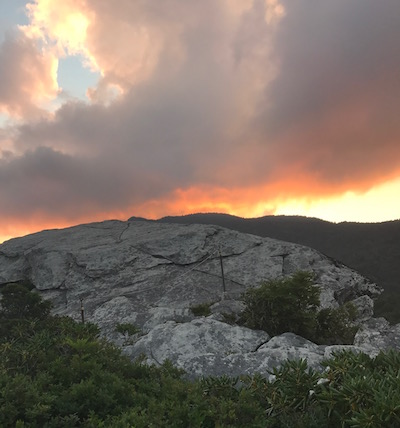 We're currently at home in Central Florida, where Hurricane Irma is just now starting to make things very windy and rainy. Fortunately, it doesn't look like the storm is going to hit the Orlando area with too much ferocity, though I feel very badly for all of the people in the Caribbean islands and to our south who have been severely impacted by the storm.
As we're not able to do much during the hurricane, I thought it might be a good time to post some pictures I meant to post a few weeks ago from our visit to the mountains of North Carolina. While we were staying in Sugar Mountain, we visited the Rough Ridge Hiking Trail, which can be found very close to the Linn Cove Viaduct along the Blue Ridge Parkway. The trail weaves upward from the highway, eventually reaching several really nice mountain lookouts.
Callum and I actually took two separate trips up the Rough Ridge Hiking Trail on the same day; one during the daytime, and one right before sunset so that I could take some photos with my Nikon. I really enjoy hiking in nature, having grown up hiking quite often in northern Ontario, and so I was very pleased to have had the opportunity to hike in the beautiful Appalachian Mountains.