the hiking trails of Monthault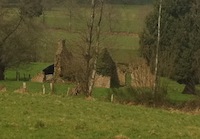 This past Saturday was one of the nicest days we've seen here in northwestern France in 2013. Today is certainly not one of those days… I went for a jog this morning after dropping the kids off at school, and it was only half a degree from freezing. Brr! Though I guess I shouldn't complain… I hear my friends and family back in Ontario have been seeing snow.
Considering how nice a day it was outside on Saturday, we as a family decided to take a trip to the hills of Monthault in Brittany, quite near where we live. There are some really nice hiking trails near the town, including one that leads to an amazing megalithic site. A friend has hiked there, and she told me that to her, it felt like a place of great power. I definitely wanted to see that.
The hiking trail we took was called "Les Buttes de Monthault" – The Mounds of Monthault. We parked our car near the trails and headed up the hill. We had a great family walk, but I'm sorry to say that I must have taken a wrong turn somewhere, because after a nice long trek we ended up arriving back at the village of Monthault having wound up on a completely different trail… something about the colors of Monthault? I have no idea how that happened, but I certainly didn't see any interesting mounds out there! On the plus side, we had a great time hiking up and down the hilly trails. The countryside in this region is quite beautiful.
Amelia was my stalwart hiking partner for the entire walk. She talked my ear off the entire time! She has become quite a creative young lady with the stories that she can spin, one after the other.
At any rate, it was a lovely day, and I'm looking forward to the return of the springtime weather we had over the weekend! Maybe when the sun comes back out I'll try once more to find those ancient rocks…