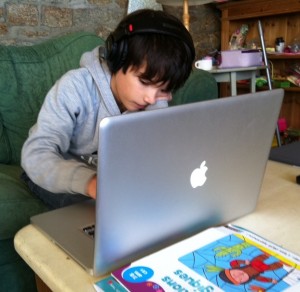 It's hard to believe that ten years ago today, this little guy came into the world.
Today is April 10th, and Callum is turning 10. That's a special occasion that I had to wait until I was 27 to experience! Instead of a birthday cake, we bought Callum a bunch of different French pastries on a tray, with cream puffs, little chocolate éclairs, mille-feuilles, and other treats.
I'm pretty amazed at the kid Callum has become. It's interesting both how similar and how different to Yvonne and I he is. He definitely has more of an interest in science and technology than I do; not that I'm not interested in science and technology, but he's just that much more into it than I am. He'd much rather watch a non-fiction science show like Making Stuff, MythBusters or Prototype This than The Transformers or G.I. Joe, which is what I seem to recall being into when I was 9 or 10, and he's learned how to solve the Rubik's Cube and is working on learning the Rubik's Revenge (the 4×4 cube), which he purchased himself because he wanted to figure it out. While I did have a Rubik's Cube when I was a kid, I don't remember bothering to master its solution (that said, now that Callum has been into it, I have also learned how to do it – who says you can't teach an old dog new tricks). He's also crazy into Minecraft – like a lot of kids these days, it seems.
Callum also seems to have a knack for music. He's been taking violin lessons since he was little, and has been progressing. Lately I've been introducing him to Logic Studio, a popular music creation software made by Apple for the Macintosh computer. He's into Deadmau5, Daft Punk, and Delerium, so he has acquired an ear for electronic music (that would be my fault). So far I've taught him how to work with loops and how to create drum tracks and music sequences using samples – we haven't started in on mastering, effects, or sound synthesis, but we'll get there. He's put together a few songs already – one of them he put together from the ground up, creating his own drum tracks (instead of using loops) and experimenting with different instruments, sounds, and samples. While it needs some work, it's not bad for a song made by a 9 (now 10) year old. Here's the song, in case you're interested in checking it out.
So happy birthday to you, Callum! It's been incredible learning about all of the amazing aspects of your character that have emerged over the past ten years. I'm looking forward to spending the next decade with you!