Out and about in late winter
It's been a relatively busy end to the winter season.
A few weeks ago I went to the father-daughter dance at Celebration School with Amelia, some of her friends, and of course their dads. It was pretty fun. I've seen a lot of father-daughter dance photos coming from friends living all over North America lately so I guess it's kind of a thing now.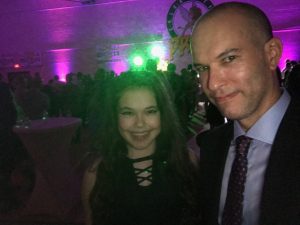 In early March I went with some friends from California to The VOID, a virtual reality experience at Disney Springs. The adventure they currently feature is called Star Wars: Secrets of the Empire. I've experienced several different offerings being touted as VR, and they all seem to fall short of being an actual immersive virtual reality experience. But this one was really quite well done. I didn't get any pictures inside the actual adventure (they'd just be a bunch of empty rooms anyway, without the VR rig to breathe life into them) but here's one of me afterward.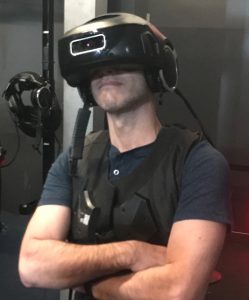 Later, I returned to The VOID with the family, and here we are in line (Callum was there, too, but didn't want to have his picture taken).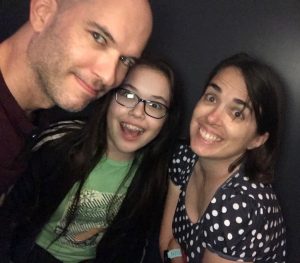 On March 10th we traveled with some friends of ours to Merritt Island, Florida to do a kayak tour with A Day Away Kayak Tours, a company that offers offer bioluminescence tours around the Merritt Island National Wildlife Refuge. We had originally signed up for the Dinoflagellate Bioluminescence Tour, but our tour appointment was delayed not once, but twice by two different hurricanes. For Hurricane Harvey, the kayak tour operators actually traveled to Houston to volunteer to help out in flooded areas with their kayaks, which I thought was pretty awesome.
Anyway, by the time we could get around to trying to schedule our tour a third time, seeing the dinoflagellates was no longer in season, so instead we did the Comb Jelly Bioluminescence Tour in the Indian River Lagoon. The comb jellies (which are not actually jellyfish) would glow when touched or held, and they don't sting, so we got to capture them with nets, check them out, and toss them back into the water. We didn't get any pictures in the kayaks, because it was dark and they wouldn't have turned out (plus we didn't want to drop our phones into the water), but we got one of our group right afterward.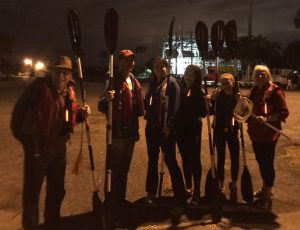 On St. Patrick's Day I wore my Dublin GAA jersey and went for a walk with the family in Disney Springs. Disney Springs is located next to a lake (man-made, but still pretty wet) that you can walk around. It was a nice, pleasantly cool day, and after our walk we went and had sushi at Splitsville. And while it seems like a bowling alley might be an odd place to eat sushi, Splitsville has made it their thing, and it's not a bad thing at all.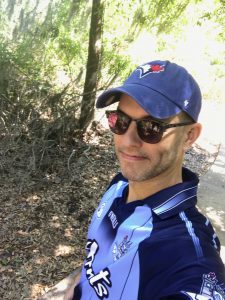 Finally, On March 18th (yes, the day after St. Patrick's Day, meaning no green beer for me) Yvonne and I, plus our friend Carlos, completed the Excalibur 10-miler in Melbourne, Florida. It was a nice race, and the first longer-distance run I've completed in a few years. When we finished the race we received actual metal crowns (as well as finisher medals) that we're wearing in the following picture. Which reminds me – it's good to be the king, but wearing metal hats is uncomfortable!