Out and about with the mouse
How often can one family go to Disneyworld? We may be in the process of finding out. We live quite close to Disney's massive expanse of property here in central Florida, and Yvonne got the family annual passes to the parks even before I arrived back from France! So we tend to hit up a Disney theme park at least once a week.
Part of the fun of living so close to Disneyworld is letting yourself get wrapped up in it. We've got Disney "cast members" for neighbors, participate in many of the runs that Disney hosts, and often go for walks along the Disney boardwalk or at Downtown Disney.
Dapper Day
March 9th, 2014 was Dapper Day at the Magic Kingdom. The idea is to dress dapper for an outing to the park… the way a family might have dressed for a day out at Disneyland in California when it first opened in 1955. We didn't have a whole ton of clothes that looked like they were from the 1950s, but that didn't stop us from dressing up to the best of our abilities for the day and parading around the park a bit.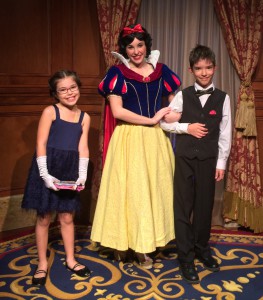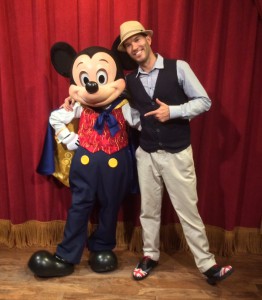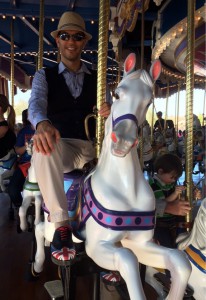 International Flower and Garden Festival
Currently, the International Flower and Garden Festival for 2014 is taking place at Epcot. Callum is really into plants – he cares for quite a few of his own, and loves to learn about the various varieties of plants and how to grow them. It's fun to visit Epcot during the festival to see the various character topiaries and to check out the different types of food they've got available (like the Dole Whip at the Pineapple Promenade, for example).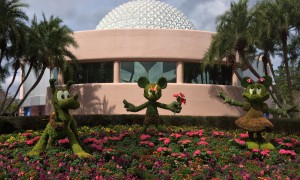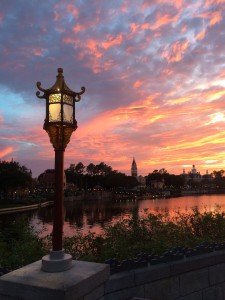 While at the Flower and Garden Festival we did something I've always wanted to do – eat at the San Angel Inn Restaurante. That's the restaurant located inside the Mexico pavilion, right at the back overlooking the water and the Three Caballeros ride that meanders past it. We managed to get a table right beside the water (can't hurt to ask, can it?) so it took a while for us to finish eating… the kids spent most of the time waving to people passing by on their little boats and calling out, "¡Hola!"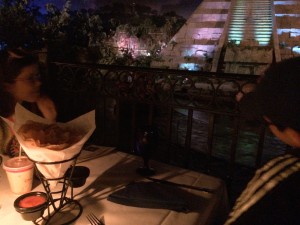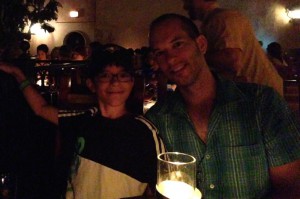 Hanging out at the parks
And finally…